Diving Courses
Masterdiver & Specialties
Speciality courses are designed to improve divers' skills, expand their knowledge, and enable them to specialize in certain subjects within the diving world.
These fascinating short courses, lasting 1-2 days, consist of underwater activities specific to the particular speciality.
Once you have completed 3 speciality courses in addition to the Rescue Diver+ Emergency First Response courses and deep diver course, and 72 looged dives, you will have the opportunity to apply for the prestigious Master Scuba Diver certification.
Before reserving courses, we recommend you to read the Requirements for certified diving in Israel
LET`S TALK!
Leave us a message and we'll get back to you as soon as possible
Rescue Diver Course+ EFR
The Rescue Diver and Emergency First Response (EFR) courses are an important step in order to continue to the advanced diving levels, such as Divemaster and Tec Diver. The activities cover topics such as stressful situations and self-rescue, managing emergency situations and emergencies involving equipment, dealing with panicked or fatigued divers, and the correct response depending on the environment, shore, or boat.
2-2.5 days
Theory and 5 open water dives
Aged 16 or older, 20 loogd dives, ADV certification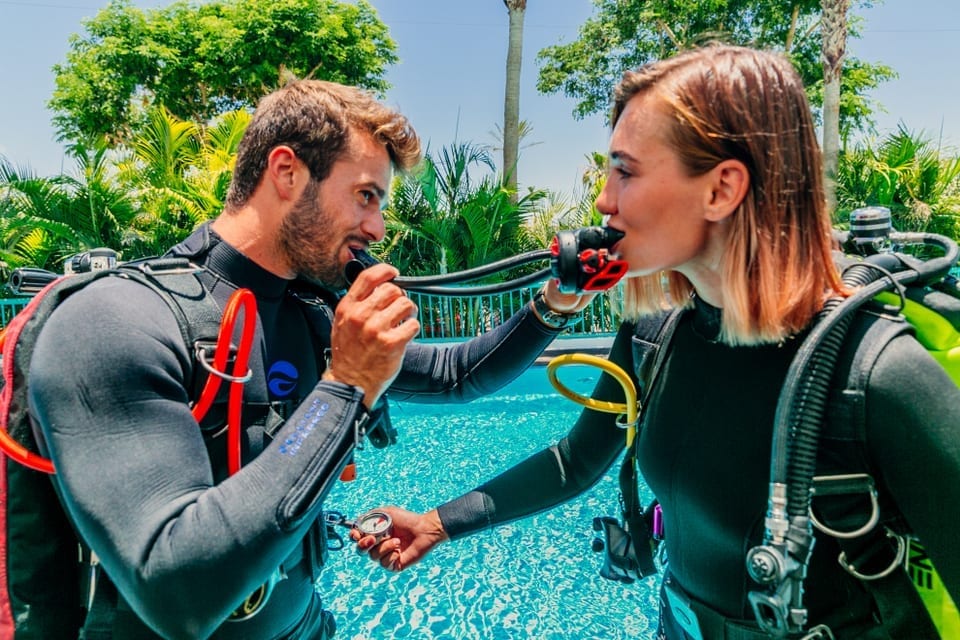 Enriched Air Nitrox (EAN)
In this specialty you will learn the advantages of diving with enriched air, necessary equipment, dive planning, gas calcualtions and more.
The advantages of using EAN are many. Longer bottom time, shorter surface intervals, safer and cleaner gas to breath, less fatigue at the end of diving day, and is the best way to prevent suffereing from Decompression Sickness.
Two hours
Theory
Aged 8 or older, Open Water certification
Suitable For
Depends on the course
Certified divers who meet the requirements for certified diving in Israel

Registration
A health decleration is required
Aged 45 and older will need additional medical forms

More Info
The EFR and EAN courses are a prerequisit to Rescue and Deep courses, and are not counted as elegible for the Master Diver level
In case you own an EFR certificate from the last two years, you can check with us if it qualifies to the SDI standards

Transport
Free shuttle services for participants, in Eilat to and from the dive center

Transport
Free shuttle services for participants

Supervised Dive Center
By the Israeli Diving Authority

Free Parking
In the sandy area adjacent to the club

Free Wi-Fi
At the dive center & hotel

Charging Cells
Lockers with a power outlet for your use

Public Area
Extensive and comfortable

Efficent Check-in
Computerized for easy and quick registration

Hotel Accommodation
Special price for our divers



Food & Beverages
A variety of restaurants in the area

Washing Pools
Two structured pools for your use

Three Classrooms
Air-conditioned and equipped

Dry Sauna
For your use during the winter

Lockers
Spacious storage, including lock

Languages
Training can be coordinated in a variety of languages

Cleaning and Maintenance
Continuously and thoroughly


International Organization


Maps
Dive sites and fish identification maps
Other things we thought would be of interest to you